Main Process
Requirement
We provide clients a variety of channels to talk to us outsourcing requirement. Our appointed Account Manager is responsible for receiving and scheduling a meeting at your suggested time.
Respond
We understand the importance of quick response for your business strategy and schedule. Account Manager guarantees to response within 1-2 working days via IMs, Phone number you left, or Emails.
Recommend
On a basis of meeting the clients'outsourcing requirements, Account Manager recommends project manager, lead developer or developers with their resumes. You are encouraged to choose one or more candidate for interviews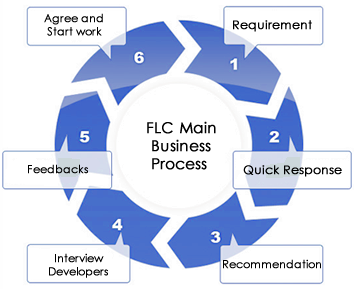 Interview
1-2 interviews are arranged at your convenience time with candidates. Interview is a very important process as you could talk with developers directly and see if he/her is suitable for your outsourcing requirement. Each developer has the capability of communication with you in English reading and writing.
Feedbacks
After interview, we will move forward with the developer(s) you select. Or we will continue to recommend other candidates according to your feedbacks or comments until you are fully satisfied.
Agree and start work under an upfront payment
Once you choose suitable developers, we will act as your HR, network supporter etc, help you to deal with contract, Non-disclosure Agreement to guarantee your IP non-disclosed, transparent development process, infrastructures supply & maintenance, team consistence, personnel initiatives etc. Developers will start work under an up-front payment. You just assign tasks or work to developers and we will take care of the rest.
Send us an enquiry to set up a team of offshore software developers right now or to know more on the benefits and the set-up process. We will make all the efforts to provide you all the information you need.


Still have a question?
About services, security and many more...
Please
contact us
.