Time & Material Hiring
Time and material hiring is suitable for companies requiring quick access to developer resources in situations where specifications are not fixed / varied during the development process. It is always advantageous to clients as they are not constrained by a fixed budget and that leads to winning application in the end.
Most of the time it happens that the clients come up with refined ideas for their software after the project is initiated. In such cases, dedicated developers will have no issues making the changes but developers hired under fixed price hiring will resist overworking as the compensation will be unjust.
FLC time and material hiring also allows you to hand-pick your group of developers flexibly thus you can create your own group of developers with desired number of developers and skill set which can even cost lesser that fixed hiring schemes at times.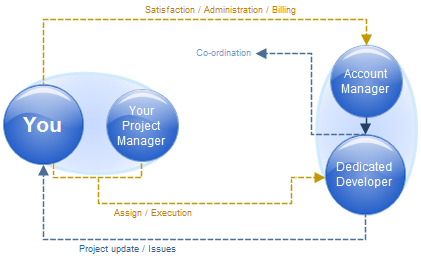 Features of our service
Experienced and highly qualified resources, strictly 8 hours a day, 5 days a week of working.
FLC forms a team and infrastructure and offers the flexibility to balance the team size and project loads.
Pricing is based on direct labor hours at specified fixed hourly rates already including all sorts of expenses and profit.
Clients can pay on weekly or monthly basis.
We offer greater flexibility in terms of developing the project specification on an ongoing basis and modifying the specifications based on the changing market needs.
The clients are in direct control of hours spent on development.
Send us an enquiry to hire offshore software developers right now or to know more on the benefits and the set-up process. We will make all the efforts to provide you all the information you need.


Still have a question?
About services, security and many more...
Please
contact us
.