Offshore Dedicated Developers
This is a model which can help you find full-time, dedicated offshore resources in cost saving. It gives you access to the skills you need and allows you to effectively collaborate with dedicated developers working solely for you.
The developers that we recommend will work for you 8 hours a day, 5 days a week. You control the development schedule and track its progress. You select, manage and continually interact with the members of your team, just as you do with in-house staff. Using offshore dedicated developers, you gain access to specific skills and better control over the entire development process.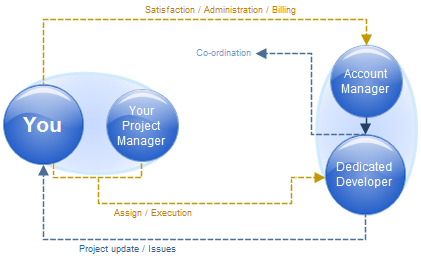 Features of our service
Each developer has the capability of requirement communication with you in English, making development plan, breaking down the requirement into day tasks and identifying the priorities.
We offer to clients an Account Managers based on a team who analyze for each project the required profile(s), select the appropriate professional(s), negotiate the terms and conditions of the contract and supervise the whole project.
You are encouraged to try us with a trial project to evaluate the developers' communication/working efficiency. The trial project only needs to be charged upon your satisfactory.
A detailed list of actual work amount is provided every month for you to identify the tasks and working hours of each developer, through which you could have a clear picture of the cost.
We act as your HR, network supporter etc, guaranteeing your IP non-disclosed, transparent development process, infrastructures supply & maintenance, team consistence, personnel initiatives etc.
Developers are ranked by different experience years and capabilities. All positions assume fluent reading and written English.
Level
Experience
Capability
Level1
2-3 years

Deliver high quality software according to requirement.
At least one outsourcing project experience.

Level2
3-5 years

Capability of Self-management and Self-improvement.
Be responsible for quality.
Capability of making development plan, breaking down the requirement into daily tasks and identifying the priorities.

Level3
5+ years

Pays attention to the business value of a system and provides value-added service, if necessary.
Identifies key problems in our service process and provides valuable suggestions.
Send us an enquiry to hire offshore software developers right now or to know more on the benefits and the set-up process. We will make all the efforts to provide you all the information you need.


Still have a question?
About services, security and many more...
Please
contact us
.