Engagement Model
We Can Help
Fixed Price
This is a classic software development model based on fixed-price. If you have a project which is short period, defined scope and all requirements are clear. We guarantee on time delivery of software as per requirements, which were predefined. As per requirements, we help you to scope your idea into a detailed description. Support and maintenance service is offered as a further option.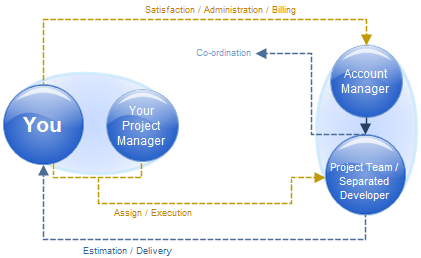 Features of our service
Quality Guaranteed and On-time Delivery-On a basis of meeting the requirement, our developer makes proposal, break down the requirement into day tasks and identify the priorities; guarantees the delivery and quality.
Real time tracking on the outsourced project - Freelancerchina operates a fully transparent process allowing you keeping abreast of any tasks' development details, such as daily progress, bugs' status, the specific work. We have a rule which developers communicate with clients in the fixed period of time daily.
Clear cost - A detailed work amount list is provided every month for you to identify the tasks and actual working hours of each developer, through which you could have a clear picture of the cost.
Intellectual property protection – Freelancerchina considers compliance with the Laws and International Agreements on Intellectual Property (IP) as a critical element in the company's long-term development strategy. In the past 7 years, we have supported strong intellectual property protection and understand the vital importance of intellectual property to our customers' business development.
Send us an enquiry to get your development project done or to know more detials about our service. We will make all the efforts to provide you all the information you need.


Still have a question?
About services, security and many more...
Please
contact us
.